What does SMU stand for and what does it mean? What is an SMU? It's a two part answer. The first part of the answer is easy: SMU stands for Special Make Up and that makes them unique in itself.
The second part is more complicated, but why do you need to know?
Well if you like gear that you can't find anywhere else loaded with upgraded features at a better price then read on...

Special Make Ups (lets just call them SMU's from now on) like our Bauer Vapor X LTX Pro+ Senior Hockey Skates are painfully and passionately designed by Equipment Buyers and produced by Major Manufacturers that Everysportforless allies itself with for several reasons, most importantly
to provide our customers with unique gear at great prices and to give you an alternative to stock items at the big box stores or local shops.

Almost always we carry these items Exclusively in our Local Area. Stores that are offered the chance to carry these items are recognized in the industry as a top rated vehicle for representing this special product, so we at Everysportforless are delighted to have this opportunity on a regular basis.

In most instances an SMU will lay in price between two similar items in a Product line with the features of the higher up item (Price Point in Industry lingo), but closer to the price of the lower item.

Don't confuse SMU's with "Knock-offs" you see at Big Chain Store which are often made offshore with inferior materials to keep costs down. Our SMU's are designed by Teams of Retailers with years of experience who know what new features players are looking for each season. So when you see the Upgrades at a great price and ask "What's the Catch?" the answer is, "There isn't one." Because our buying group has fought hard to push Manufacturers to let us bring these Products to our customers.

There you have it, the SMU. Every players dream: Unique, with all the latest features and at an unbeatable Price.

So Mom or Dad show your player you've got a one up on them and drop an SMU fact or two from this blog.

And don't forget, You heard it (and got it) here with everysportforless!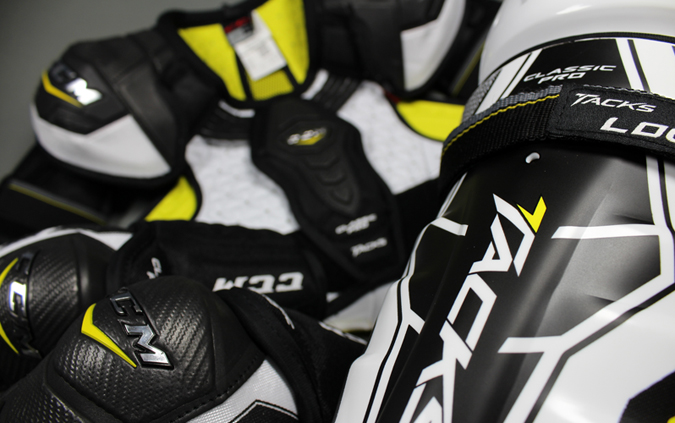 Recent Posts
So why is there (and what is) an intermediate hockey skate size and do we really need them? I remem …

When it comes to customer feedback Bauer has always been a Stanley Cup Winner. Sometimes however it …

A fairly common dilemma for young players and parents is whether or not to purchase a Complete S …