So many of today's young athletes participate in more than one sport. Whether it's a healthy dose of Lacrosse in the Spring and Hockey in the Fall, or a combo of Softball and Field Hockey, there is never a lack (and sometimes too many) of sports to participate in. While this seems to be the norm these days, Multi Sport Athletes who can dominate all the way to the Professional ranks in two sports are still a rarity. There are still dominant Collegiate athletes who have to make a choice between joining the Pro ranks as a NFL or a MLB player and certainly famous names like Tim Tebow and Bo Jackson have been faced with this decision, however there are not many names that can be hailed as being an elite performer at two extremely physical sports like the amazing Jim Brown.

The Legendary Jim Brown of the Cleveland Browns was no doubt one of the greatest players in NFL History, but few know that to this day he is known as one of the greatest Lacrosse players ever from his days at Syracuse University. I first learned of Brown's exploits from a friend's father who had played Lacrosse with Brown for the Orangemen. He said quite simply, "Jim Brown was the greatest Lacrosse player I ever saw." At Syracuse, Jim Brown lettered in four sports including lacrosse and football. With no professional Lacrosse Leagues existing at that time Brown's Lacrosse career essentially ended once he left SU however he was quoted as saying on several occasions, ""I'd rather play lacrosse six days a week and football on the seventh." As a Football Player he was invited to the Pro Bowl every season he was in the league, was recognized as the League's Most Valuable Player three times, and led the league in rushing yards in eight out of his nine seasons. Jim Brown is a member of both the Lacrosse and the Football Hall of Fame.

As with the actual Sports themselves, sporting goods tells quite the same story, there are very few, if any items that can be used across multiple sports and still provide optimal performance to both. These is due to the nature of specialized sports performance and features and of course that you quite simply can't use a Baseball Helmet to play Hockey. Of course you always play with one or two Adult Leaguers that have "Gone Rogue" like using Lacrosse Gloves for Hockey because they like the snug fit but can still move their fingers, That's all well and good until the first nasty slash and they realize that extra inch on their wrist provided by the Hockey Gloves would have saved them a lot of pain. Then there's always the player that insists on wearing Running Shoes to play a soccer game in low, wet, freshly cut grass (again, a true story, and as you can imagine it doesn't end well ).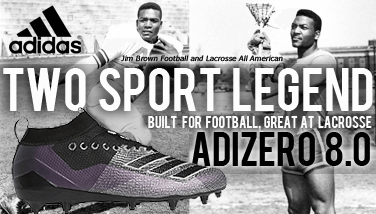 Lacrosse and Football are one of the few combinations of sports where a piece of gear (in this case Footgear) is compatible across both sports. We would suggest that while there are cleats marketed as "Lacrosse" , that 98% of Football Cleats fit the purpose to a "T". Available in Low, Mid or High Football Cleats provide the perfect cleat configuration for both sports; Footwork, cutting, jumping dodging opponents, hard open field running and providing stability for strong contact or setting in place to shoot or pass. Materials also fit the bill: Light yet strong and durable, built tough and for a variety of weather conditions. Of course both sports have to pass the mirror test and contain the right amount of flash…or the opposite for the low-key player.
Everysportforless.com has the perfect spread from Bright Colors and Shiny Finishes like the Adidas Freak X Carbon or the Under Armour Highlight RM to the more low key traditional look of the Adidas Freak Mid or the Under Armour Hammer

Much like a variety of skate models are geared towards different player types the Low, Mid and High Styles fit well for Lacrosse Players as well. As a Long Pole Defender I always liked the feel and support of a high shoe, while smaller speedier Attackers prefer the Low and Mid Models.

So remember when searching for your lacrosse cleats this season to visit the football cleats page as well. Feel confident that the Football Models are spot on for Lacrosse and will not be at all out of place. In other words they aren't a "replacement" for Lax Cleats, they are the real deal. Same specs, same toughness, same performance. Like the legendary Jim Brown the perfect combination of all the elements needed to excel at the highest level in two tough sports.
Recent Posts
When it comes to customer feedback Bauer has always been a Stanley Cup Winner. Sometimes however it …

A fairly common dilemma for young players and parents is whether or not to purchase a Complete S …

So many of today's young athletes participate in more than one sport. Whether it's a healthy dose of …