As the Season approaches Everysportforless takes a look at the 2 behemoths of Hockey Skates: Bauer Hockey Gear vs. CCM Hockey Equipment and compares lines in a head to head face off while asking the question: Why have 3 models anyway?

I've been playing hockey since I was a wee lad of three. Back in the days when only cars and bikes (not bags) had wheels, the "glass" was chicken wire and you got an already semi-dirty practice jersey from your league and slept with it every night like it was made out of gold. In those days there were many classic brands that no longer exist and like the greatest of dinosaurs, Supreme and (Super)Tacks ruled the planet.

As old Ernie at the Pro Shop put it, "You have a narrow foot you wear a Supreme, you have a wide foot you wear a Tack", and that was that.

but nooooo....in the mid 90's along came the Bauer Vapor (thanks a lot Nike), developed for players who craved more speed. And while the Vapor became the "flashy" skate the Supreme shifted to being a fixture for the traditional player.

Long story short, here we are approaching the 2017-18 season and we now have 6 models - 3 from Bauer and 3 from CCM. Each caters to a particular fit. Below we have a helpful hockey skate comparison guide to help you find the skates best suited to your feet.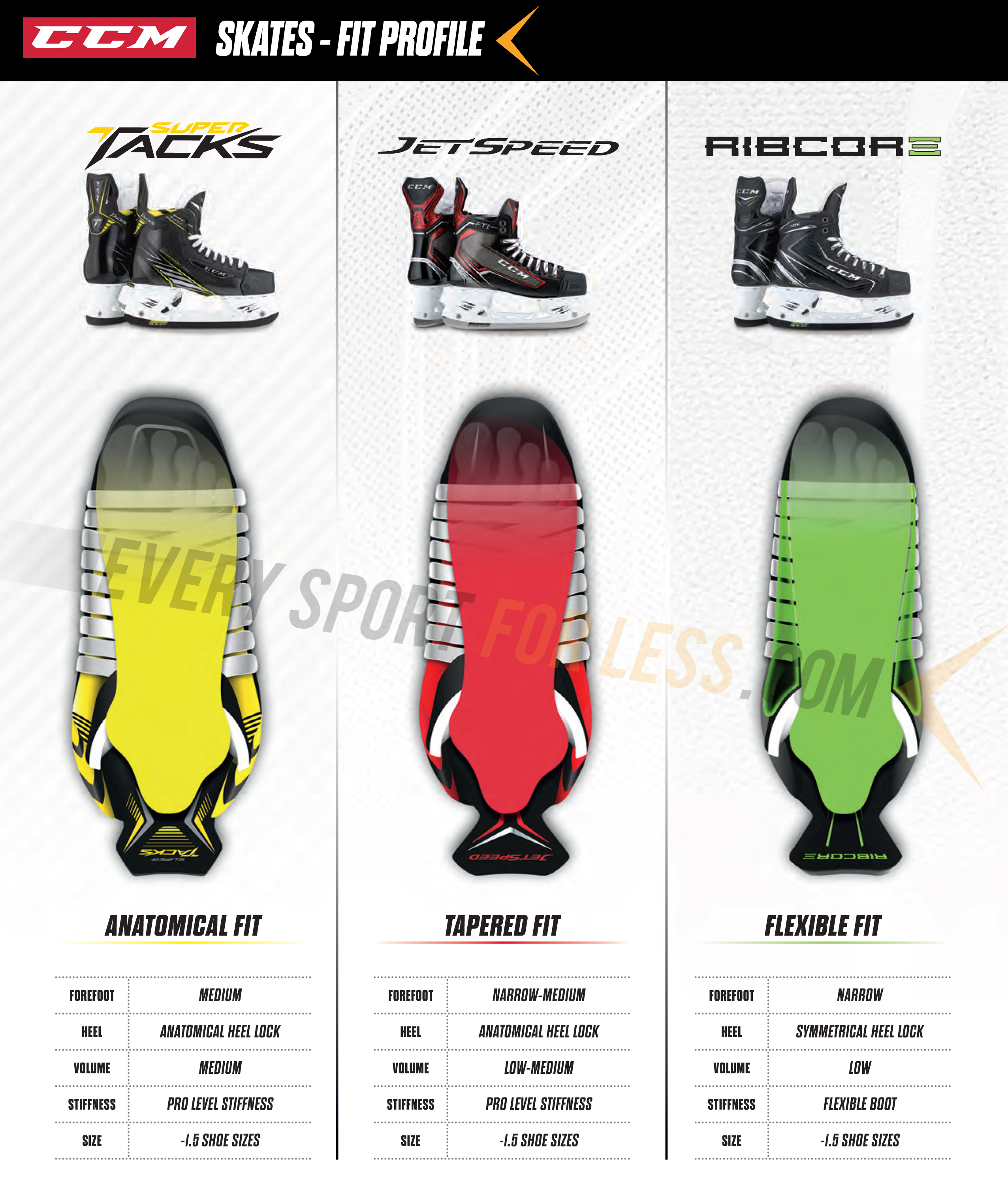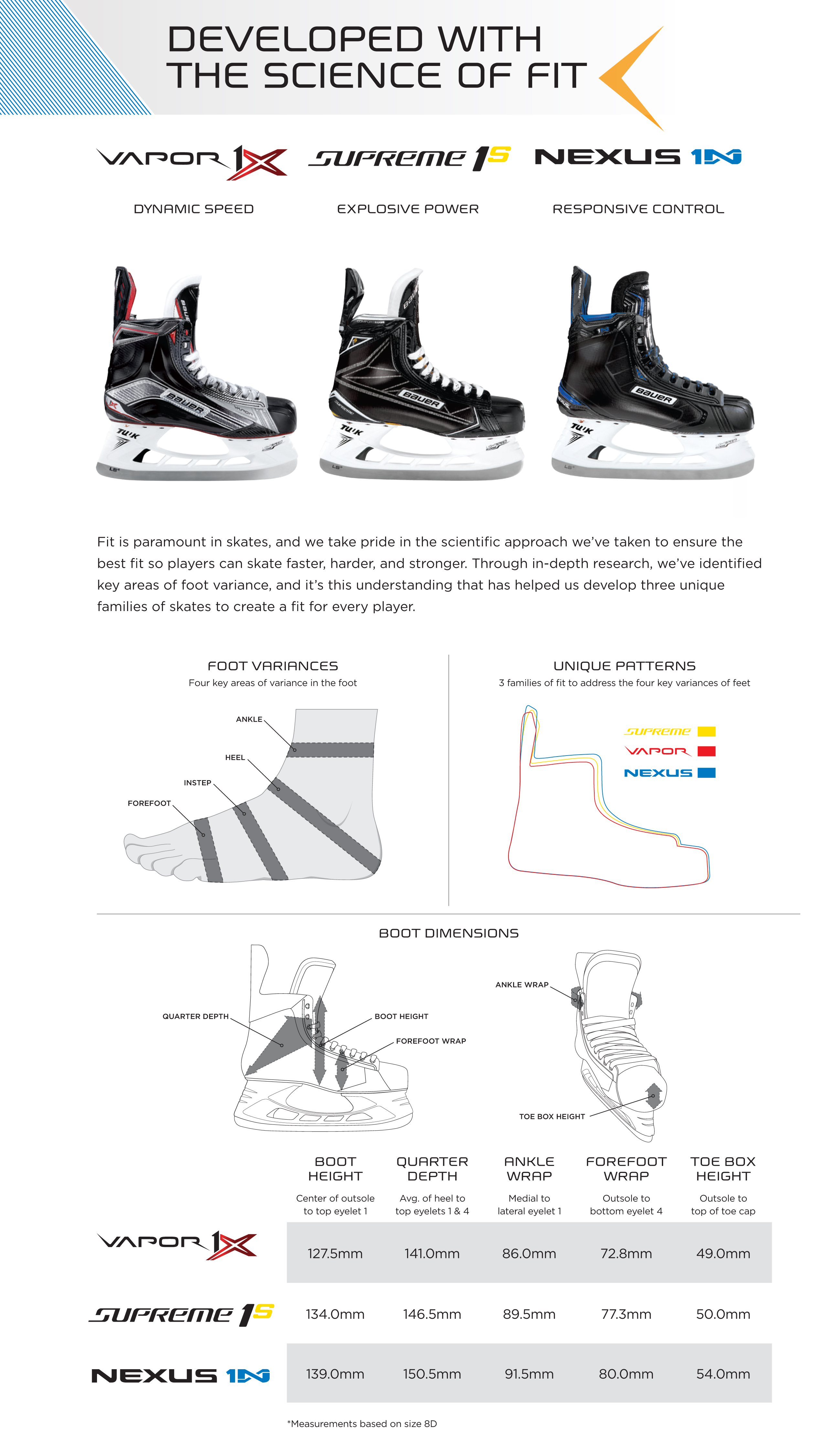 This is the head to head Bauer vs. CCM in the search for the ultimate skate fit from narrow heel, to high arch to Fred Flintstone Foot.


Bauer Vapor vs CCM Ribcor - Down Low for zero to 60 cruising speed to fill your need to go fast.

Built for: Speed

Foot type: Low Profile Foot

Boot Dimensions: Low Cut

Player Type: Speedy Winger, Center, Offensive Defenseman

Great for: Blowing around Slow Defenders, Stopping on a Dime.


Bauer Supreme vs CCM Jetspeed - Straightaway Momentum for the Big Boys (and Girls).

Built for: Power and Stride

Foot type: Low Profile Foot

Boot Dimensions: Low Cut

Player Type: Defensive Defenseman, Grinder, Powerforward

Great for: Grinding it out in the Corners, Shotblocking Masters, Camping out in the Crease, Stationary Shooting


Bauer Nexus vs CCM Tacks - Classic Fit and Max Ankle Support help you maneuver like a champ.
Built for: Responsive/Anatomical Fit

Foot type: High Profile Feet

Boot Dimensions: High Cut

Player Type: Traditional two Way Players

Great for: Combination for players looking for the best response and all around play.


When checking for proper fit there are three keys to success:

1. Always remember there are four main areas of fit you want to focus on when being sized for a skate: The ankle, the heel, the instep and the forefoot.

2. Also, always bend your knees when trying on skates. This mirrors the same stance as when you skate and will move your heel and toes back so you will get more of a true to the ice fit. Do you skate standing straight up? Didn't think so!

3. Tie your skates like you tie them for real. I never tied customers skates when fitting them. It's like having someone take a test drive and then driving the car for them. I will admit, I did have to say, "I'm not being lazy..." every time not to look like I was being well, lazy. Some folks like them loose and some like them cutting off their circulation. Either way, lace them like you wear them.
So who is the winner? The real answer with so many choices is you. Players should go into a new skate purchase with an open mind and knowing what Model(s) are best for your foot type, playing style and position. Use your new found Skate Knowledge and make your purchase with confidence!
Recent Posts
So why is there (and what is) an intermediate hockey skate size and do we really need them? I remem …

When it comes to customer feedback Bauer has always been a Stanley Cup Winner. Sometimes however it …

A fairly common dilemma for young players and parents is whether or not to purchase a Complete S …