When it comes to customer feedback Bauer has always been a Stanley Cup Winner. Sometimes however it is said, "people don't know what they want, but they know what they don't want." This is where numerous focus groups and piles of player feedback from all across North America gathered by our friends at Bauer has been translated into a new streamline way to find the perfect skate fit, and they named it, appropriately, the FIT System. As the Press Release says "Bauer is deeply committed to learning from hockey consumers globally." and we think they did.
The Science of Fit was a consumer-led innovation approach, Not only is it easy to explain and implement but it reduces the amount of skates in Bauer's Line (making the decision process easier) So let's take a look at why, how and what the FIT System means to players everywhere.

Why?

The Bauer core skate sizing mantra is now based on the theory that Players have, in the past been fit based on the Model family that best fits their feet. Presenting 3 lines of skates for years: Supreme, Vapor and Nexus which all are known for their respective general fits while also having (at the same time) been defined as having specific performance and player traits attached. The results of this have raised issues with Retailers and frustrated players for years. What if you want the fastest model but you have a wide foot? You really want a Vapor but your foot and logic points to the Nexus. This is the Performance vs Fit dilemma. So the goal was: Develop a system that allows for a performance based skate choice which presents all the options of size. Additionally, as a company we can see that reducing the amount of SKUs and eliminating a Mold and a Complete Skate Line (Nexus) drastically reduces overhead while allowing Bauer to focus on refining the remaining base models.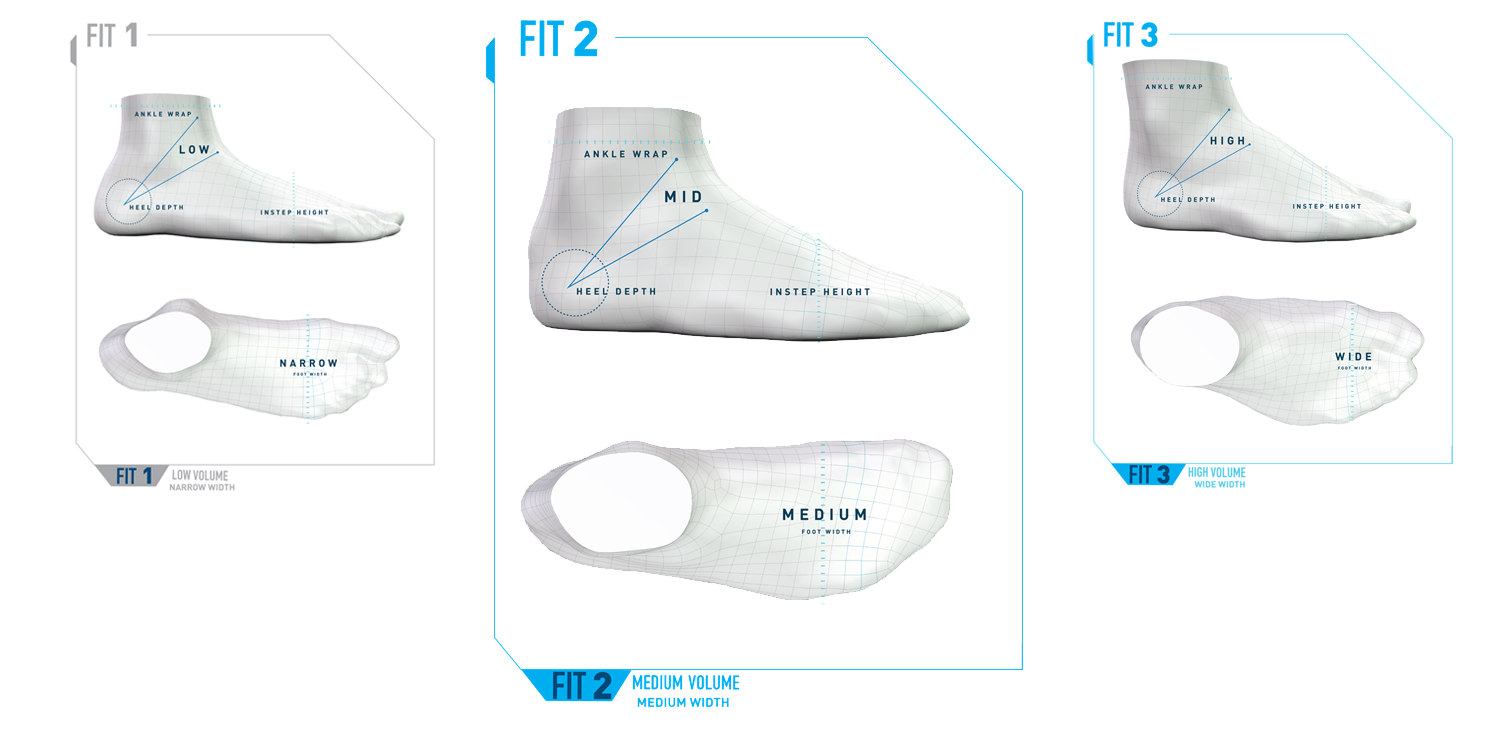 How?

Before 2020 Models in the Bauer Skate Families were:
Supreme (Regular)
Vapor (Narrow)
Nexus (Wide)

Now two Model Families remain, Supreme and Vapor. Each of these is equipped with 3 Fit Children. FIT 1, 2 & 3. Starting with FIT 1 which is a Lower Volume/Narrower Fit and ending with FIT 3 supplying a High Volume / Wider Fit.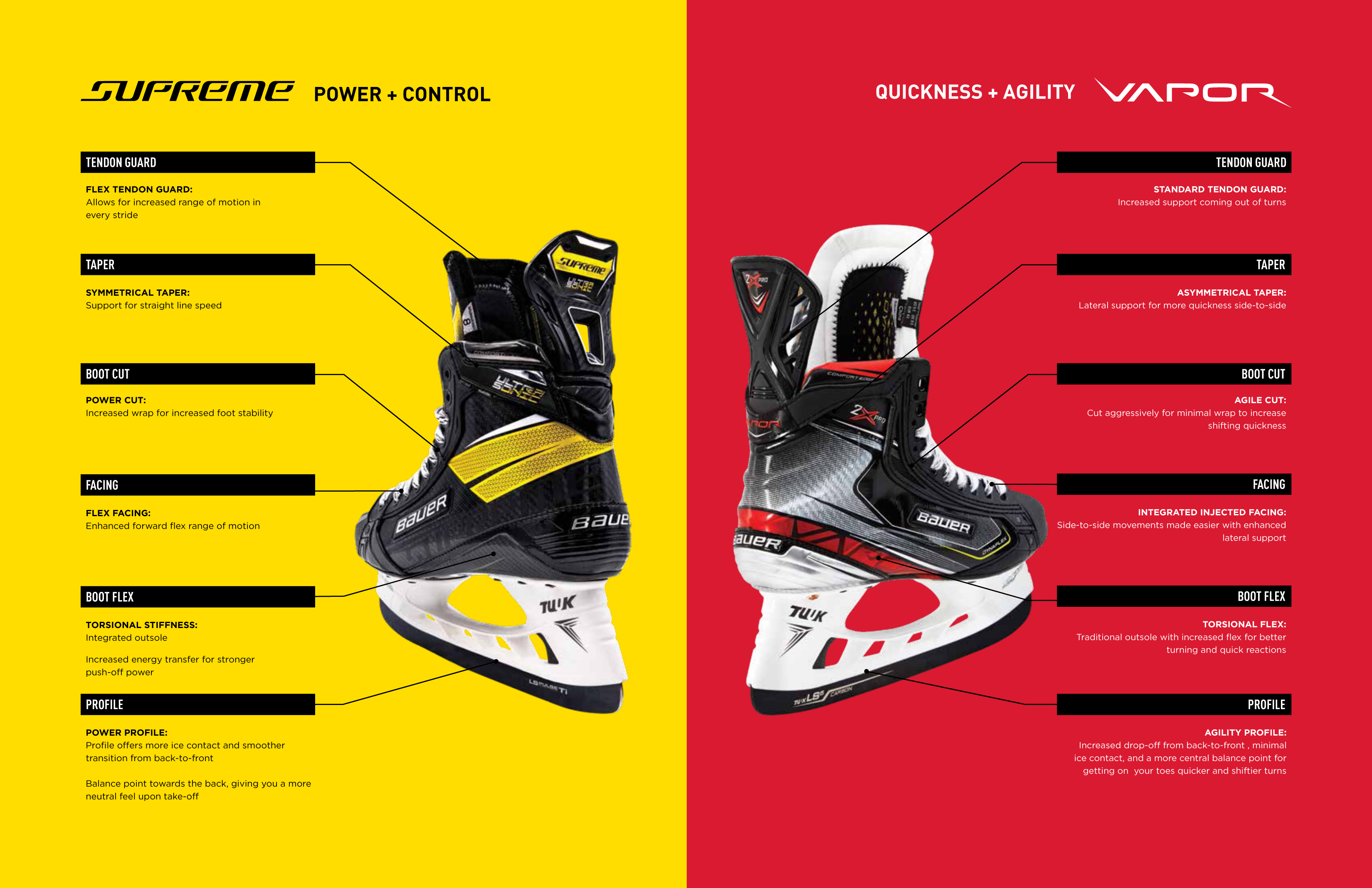 During the discovery process Bauer surmised that there was a problem area pertaining to "perfect" fitting especially when it came to players aged 11-14. Critical ages in a players development.
Bauer has now introduced a "Intermediate" Skate class in addition to the traditional Senior, Junior, and Youth age classification Hey, there have been Intermediate Sticks for years, why not Skates? The thing to remember about this is that is a classification in name only, taking the smaller Senior Sizes and Bigger Junior Sizes grouping them and calling them "Intermediate", targeting that in between age group for both boys and girls.


From experience, there is nothing worse than loving the way a skate looks on a player or in an Ad and it's feature description fitting you to a "T". Then heading to the store excited to make your purchase and having an experienced fitter basically have to talk you out of buying it because it's not really the right skate for you. That feeling of going home with a skate you didn't intend to buy when you walked and aren't in love with but you know fits better isn't quite as satisfying, not by a long shot. Even after playing for years I remember this feeling when it happened to me. It wasn't a great one. Many a Parent/Player relationship has been strained on a Hockey Stores Sales Floor as practicality butts heads with expectation With the new FIT system those days are gone. When Bauer says, "A Fit for every player." It really means it. What it means for you.

It means you have two solid long standing and trusted Models, the Supreme or the Vapor, each providing unique characteristics to different types of players and now the means to pick performance first and then find the right fit for that particular model. We love options and the new FIT System offered by Bauer took 400,000 global foot scans, (you may have been one of those) binder after binder of feedback, sales figures and years of research to target the best possible fit for every single player. You will see skates that have the FIT options when you pick a size in the drop down and each FIT is explained again on the Product pages. Remember not all but many of the new Bauer Skates are introducing the new Fitting scheme; there are some other models at different price points that have retained the standard Width system and in terms of numeric size, generally players should size down 1 ½ from Shoe Size to Skate Size in a Bauer. For example a size 10 shoe would want a 8.5 skate.

Here at everysportforless.com we think this new system is a winner. It helps everyone involved by making the customer experience a more satisfactory one and selecting a skate on your own 100% easier. Be sure to checkout the new FIT System available starting with the new 2020 Skates here and discover the new science of fit.

Recent Posts
So why is there (and what is) an intermediate hockey skate size and do we really need them? I remem …

When it comes to customer feedback Bauer has always been a Stanley Cup Winner. Sometimes however it …

A fairly common dilemma for young players and parents is whether or not to purchase a Complete S …