Returns
We offer Free Return Shipping Labels for Qualifying Orders.
If you wish to return an item:
Please follow the regular return process as described Step by Step below
We will then send you a Pre Paid Return Label to affix to the box or package within 24-36 hours if your order qualifies. Customers are responsible for Return Shipping on Non Qualifying Order* - Please note the Return Label will be emailed to the address listed under SHIPPING ADDRESS that was used when the order was placed.
CHECKED OUT AS A GUEST? No Problem. Just Click on "Forgot Your Password" and enter the email address you used to place your order.
*Items that do not qualify for a Return Label - Customer is responsible for Return Shipping:
1. Discounted / Sale Items
2. Drop Shipped Items (select products from Athletic Knit, Cranbarry, Greys or Trigon Sports)
3. Purchases of Multiple Sizes of the same Model (You ordered a 6 and a 6.5 and want to return the 6)
4. Any Item ending in a Sale Price of .92 cents meaning it is a heavily discounted item.
If you wish to switch sizes for an Item you ordered:
Follow the process above but select "Returning and Buying Correct Size" on the Return Authorization
Repurchase the Item on everysportforless.com (you will be able to see at that time if the replacement product is in stock)
Non Returnable Items and Drop Ship Orders are excluded from this offer.
NO HASSLE RETURN POLICY
Items can be returned up to 60 Days after purchase provided they fall within the guidelines of the Everysportforless.com Return Policy. Please read the information below for more details.

Please report Incorrectly Shipped Items or Defective Clothing to us within 5 days of receipt.

The Following Items are not eligible to Return:

- Products that have been used in anyway, including items that have been left outdoors, are covered in dog or cat hair, have any type of odor, or are faded in anyway thru exposure to the elements.
- Sharpened or Baked Hockey Skates - Please do not Sharpen or Bake Skates until you know they fit correctly.
- Inline Wheels with any wear.
- Jocks or Undergarments
- Mouthguards
- Special Orders, Custom Orders, Team Jerseys, Any type of Embellishment
- Blemished Products
- Special Sale Event Items-Warranty Items - Broken during use within the manufacturers Warranty timetable
Also Please Note: Large Items Shipping Directly from Manufacturer and noted as "Non Returnable" on the Product Page are not eligible for return or exchange
In regards to the return eligibility above Everysportforless.com reserves the right to refuse a return or charge a restocking fee up to 40% based on condition once we have physically received the item back and looked it over. In these circumstances if the customer requests, we can return the product provided they pay shipping.

Please click HERE for a reference guide to manufacturers websites and their Warranty Info and specifics on how to warranty a broken or defective product.

To be Eligible for a Return all items must:

- Be in New and Unused Condition
- Contain all original Literature and Accessories
- Any Plastic Packaging must be unbroken
- UPC Codes must be intact and not removed.
- Include a Copy of the Original Order Slip.
- Bats must be in their original shrink wrap.
- Helmets must still have all warning and certification stickers attached.
- A Shoe box cannot be used as the return shipping box, unless the box is wrapped or double boxed and there is no tape stuck to the outside of the box (See below for an example of a box that will be charged a restocking fee).


Applying for a Return and getting a RMA Number (Return Merchandise Authorization Number) Step by Step:

To ensure your return is processed correctly, we do not accept returns without an approved RMA#

1. Log In to My Account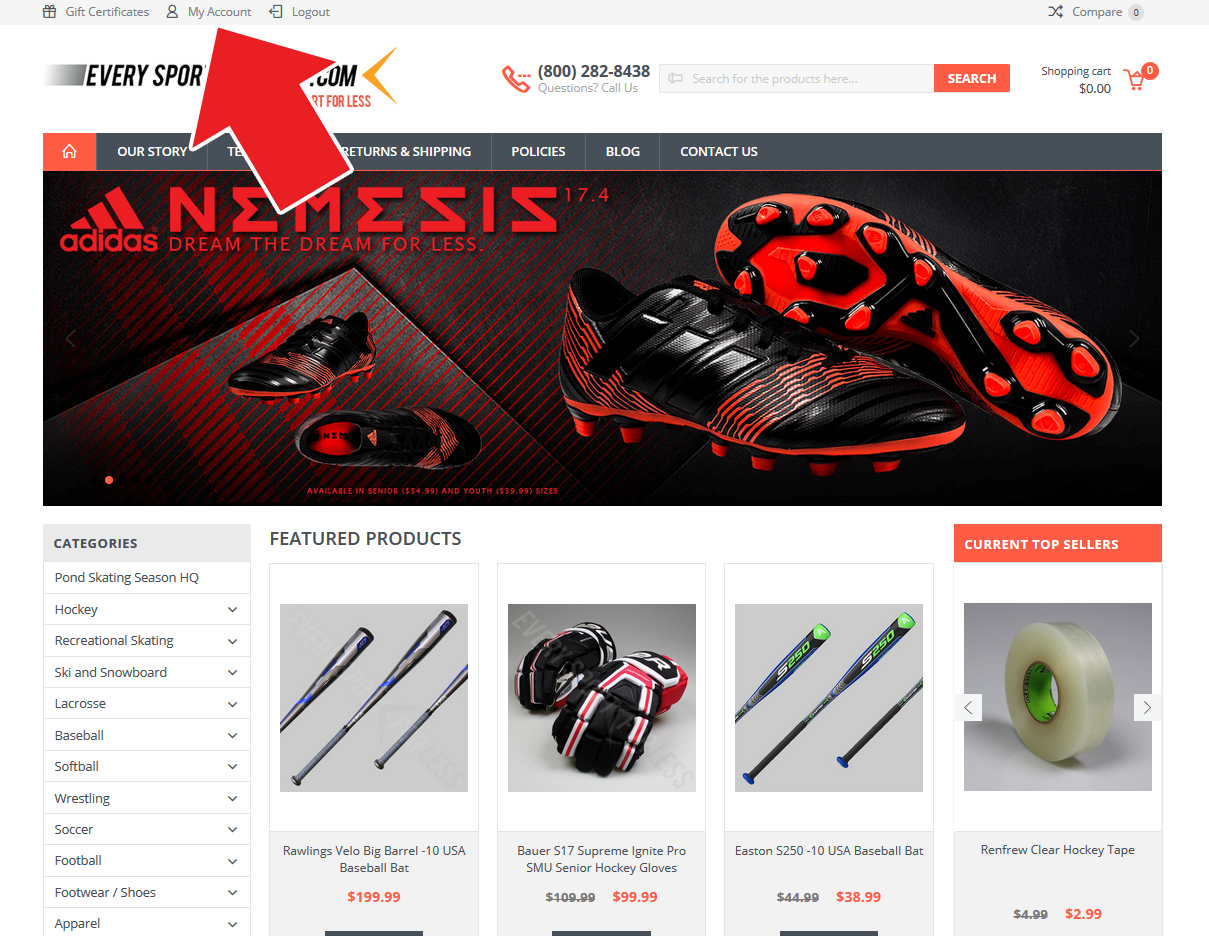 2. You can start a return in 1 of 2 ways
Look under your completed orders and just click on "Return Items?"

or
Click the Order Number (in Red) in which case you will see this screen, when you do click the "Return" Button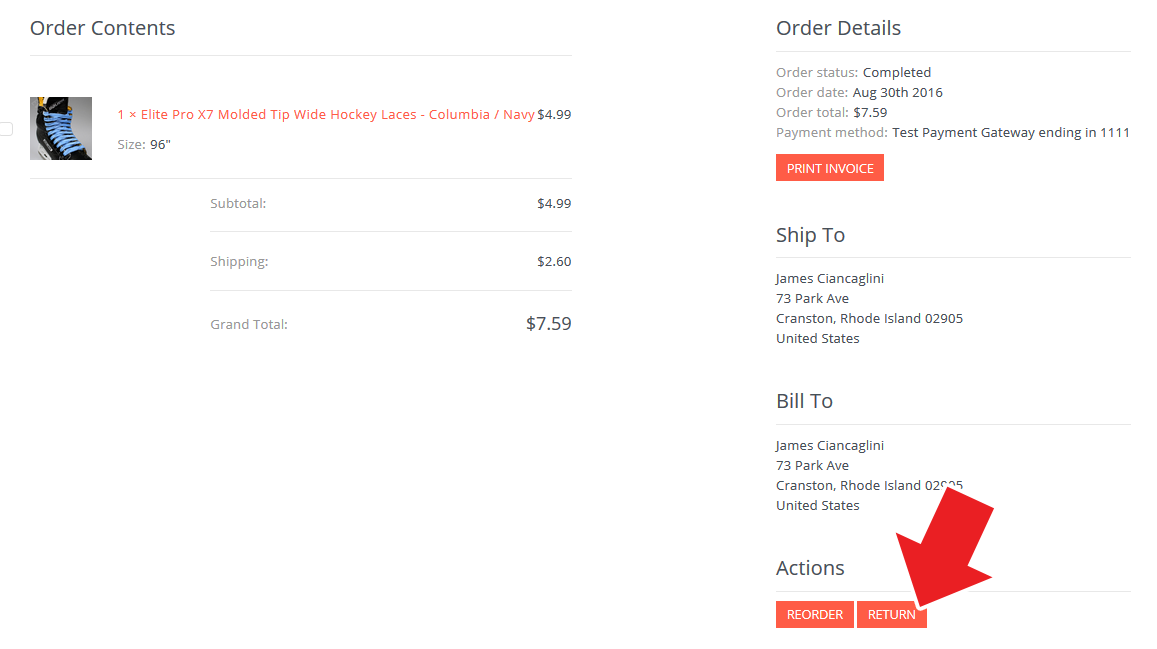 3. Fill out the following items on the return request:
- Quantity to return
- Return reason (Your reason for the return)
- Return action (What you would like us to do)
- Comments (Please be specific, this will speed up the approval process)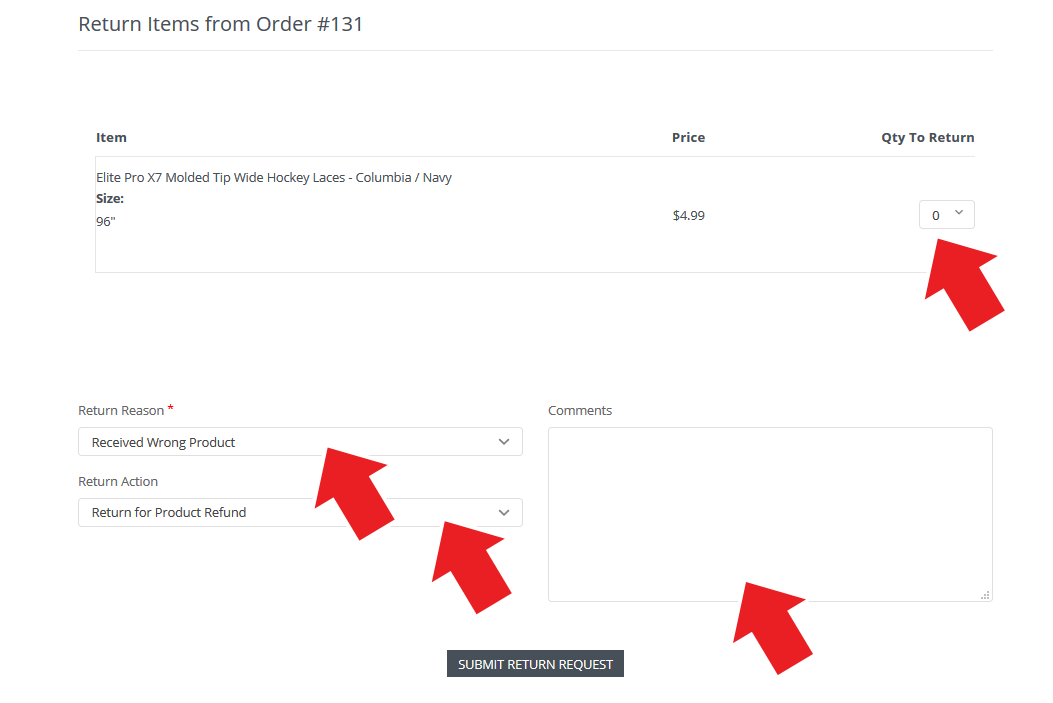 4. Click Submit Return Request.
If you did not setup an account when you made your purchase no problem, simply fill in the email you used at checkout and request a new password.
5. If you picked exchange please reorder the product. If the product is out of stock it will be unavailable for repurchase.
NOTE - Any applicable labels or correspondence emails will be addressed to the email provided under "Shipping Email." please make sure that you check that email for a label. If you do not receive an applicable label please email us at weborders@everysport.us and provide us with Order Date and Order Number.


What to Expect

When a return request is submitted, Everysportforless.com receives a notification email, and you will receive a
confirmation email that your Request has been received and an RMA Number assigned.

Once we have received and reviewed your Return Request we will process it and issue (providing it meets the guidelines above) an approval. This could take up to 48 hours depending on day of week or Holiday.
Please note that once you receive your RMA Number you have 14 business days to return the product or it will be subject to a 30% restocking fee.

When we physically receive the returned item at our warehouse we typically are able to issue the refund within 4-5 business days from the day we receive it. Your refund will be issued the way you paid for the order. For example if you used Paypal, your Paypal account will be credited. If you used a Visa card your Visa card will be credited. The Customers are also responsible for Return Shipping. Only Items Eligible for In-Store Pickup can be returned directly to the Store.
Please note that excessive Returns by the same party for a particular item will be charged a restocking fee up to 30% of the Product price after 3 or more returns.
Returns from Hawaii and Alaska Addresses are not Eligible for Pre Paid Return Labels.

Helpful Tip

If you are not comfortable with selecting the right Size or Fit. Please contact us HERE. We are here to help make your purchase as easy and stress free as possible!